Frequently Asked Questions (FAQ)
(Click on a Question to view the Answer)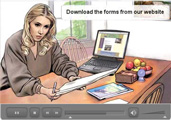 Running time: 3-1/2 Minutes
Requires Flash 8
We work with individuals of all ages. When people think of PT, they often think that it is only for individuals who have had injury or surgery. We also work with individuals suffering from chronic aches and pains who have not had a specific injury.
Yes, in the state of Oklahoma a prescription is required for physical therapy intervention, but feel free to call and visit with us about whether or not PT is right for you prior to going to the physician.
Please plan for the first visit to last approximately 90 minutes.
The physical therapist will complete an initial evaluation on your first visit. The initial evaluation will include a brief medical history, baseline measurements and a treatment plan. Furthermore, your rehab team may instruct you in a home exercise plan.
After your initial evaluation, your standard visits will take approximately 1 hour. Please note that programs are individually customized to fit each patient's needs, so each program will vary in time dependant of patient's particular requirements.
Please wear comfortable clothing. For patients with lower extremity injuries (foot, ankle, knee, hip and low back) wear shorts and bring your tennis shoes. Upper extremity patients (shoulder, neck) should plan to wear a t-shirt. We have plenty of changing rooms available for your convenience.
Absolutely! If you need to get to work or school from our clinic, we have a shower and changing facility.
TheraWest is proud to be a participating provider with most major insurance plans. Our administrative staff will verify your physical therapy benefits following your initial visit to determine visit limitations, co-pays and status of deductibles. If you prefer you may bring your card in before beginning therapy and benefits can be verified prior to your course of treatment.
Please call our office if you ever have any questions regarding your treatment or your home program. We would prefer that you speak to your therapist to confirm that you are doing your exercises properly. Doing your exercises properly will help avoid any further injury.
Yes, our administrative staff will make a copy of your insurance card. Many insurance companies require a copy of the card when we submit your bill.
It is uncommon to have a co-pay for each physical therapy visit. Our administrative staff will verify your physical therapy benefits following your initial visit to determine your deductible and co-pay. We will share this information with you and ask that you settle your co-pay amount at least weekly.
Please let the front office know if you change your insurance carriers with as much notice as possible. Regrettably, failure to have the correct billing information on file with our office may result in those visits becoming your financial responsibility.
You could very well experience some pain during and following your visit, especially your initial visit. While physical therapy is designed to decrease pain sometimes it is necessary for us to recreate your pain to establish a proper course for correction. Please follow the instructions your therapy team will share with you to decrease the pain (ice, elevation, etc). If you do not experience a decrease in pain or you are unsure of what to do, please contact us.
Yes! Please let your therapist and the front desk know one week in advance when you have a doctor's appointment. This will enable the therapist to re-evaluate your progress and have a report available for your physician. In addition, your physician will be made aware of any complications or concerns you may have between physician visits. If you do not have a follow-up appointment, the therapist will send a note when you are finished with physical therapy.
We always encourage an open line of communication. When a patient has ceased formal physical therapy, it is always recommended that they keep in touch with the physical therapist. This ensures that if the symptoms do recur, we can address them immediately instead of waiting for things to worsen.
Sometimes it is hard to distinguish between soreness from muscle usage and pain. It is extremely important that you let your therapist know if you are experiencing severe soreness or pain so that we can alter your treatment plan accordingly. We want to make your physical therapy as effective and enjoyable as possible.
If you have any other questions during or after your treatment, please contact:
Your Clinton Patient Care Coordinator, Teisita Russell at (580) 323-8778
Elk City Patient Care Coordinator, Hope Redden at (580) 225-8778
Weatherford Patient Care Coordinator, Teisita Russell at (580) 772-8778
Or, email any questions to office

@

therawest.net.